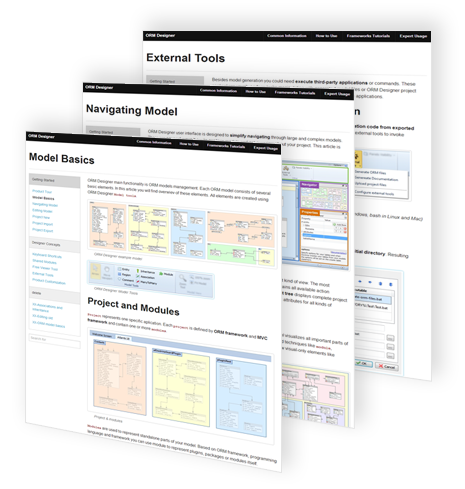 As you might have noticed, in the last few weeks we were neglecting our blog a bit. The reason for this is that our whole team is currently busy finishing new documentation, and we are excited to tell you that the launch is planned for the next week.
Don't worry, no bulky pdf with hundreds of pages is heading your way. Simple is smart, and the documentation completely follows this rule. We created it in a shape of simple websites thematically** sorted** by its main topics. For intuitive navigation, the search function has also been added.
The documentation is divided into four main sections:
Common Information: FAQ, license conditions, supported platforms, etc.
How to Use: general concepts of working with ORM Designer
Frameworks Tutorials: specifics of working with selected framework
Expert Usage: advanced configuration and customization of application
We are looking forward to introduce documentation publicly, but there is still a lot of work ahead of us. To create something comprehensive, concise and visually appealing is not easy.
Keep your fingers crossed so we deliver it on time, with understandable content and clear form. Follow our blog and we will inform you about the precise date of launch.