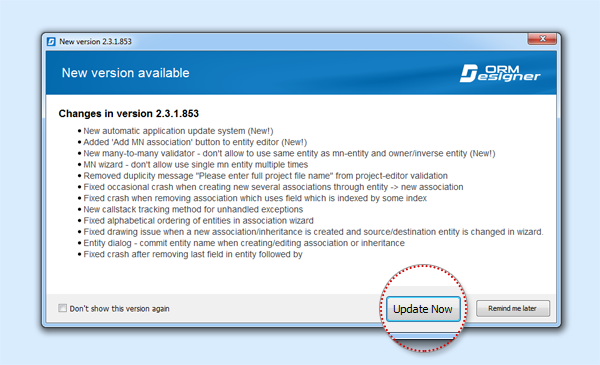 Hello Everybody,
Well, this update is not yet automatic. So why should you bother to download the file and manually update ORM Designer again? For exactly that reason. All future updates will be automatic.
With our team growing, we have started releasing new updates more often, and having to download new version manually every two weeks or so might annoy some users. I know it would annoy me. But that is over now.
ORM Designer checks for new versions on start-up, and when there is a newer version, you will get a notification with a list of all new changes and fixes. And if you want to, you can allow the update to happen, so don't worry that the application will be changing under your hands without you knowing.
And because you want all the new stuff to keep your ORM Designer up-to-date, just press the Update Now button. All you need to do now is to watch the progress bar.
Updating the ORM Designer is now almost as easy as creating definitions with it. Make your life another bit easier and get the latest version now.