Hello Everybody,
Today's buzzword is properties. ORM properties. ORM properties are the reason why ORM Designer is the best choice for your work with ORM frameworks. Keeping track of all the properties and defining them is pretty tedious if you do it by hand. We know. That's why we made ORM Designer in the first place.
But now we finally got around to tweak the way you edit them. First we've separated the three main groups: General properties, where you have everything you can see in the visual model, ORM properties, which are making your code tick, and the Configurations, where you can specify the export paths, file extensions and all the inner workings of ORM Designer. But it gets better.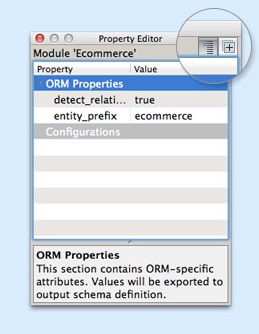 The new Quick Filter button in the properties may not seem much at the first glance. But when you find out, how much clicking it saves you when sorting through the Property Editor, you will love it. Big time.
And to tease you a little, all these changes are groundwork for the main change in the Property Editor. We are working on the Big One, but we didn't want to overwhelm you with goodies, so we are releasing them one by one. PS: Okay, I take it back. Today's buzzword was ORM Designer again.
And don't work too hard, you know you don't have to with ORM Designer.