ORM Designer released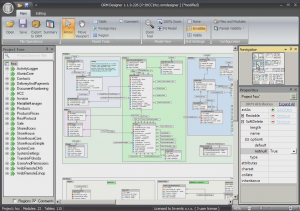 Today we have officially released our application, ORM Designer, to public. For more than 3 years, we have used it as an internal tool for our Symfony and Propel/Doctrine based commercial development. Since it helped us a lot, we decided to offer it to more users.
ORM Designer will allow you to design your schema definitions using ER diagrams. You won't have to write your XML/YML definiton files manually from scratch. You won't have to keep up-to-date documentation and diagrams in another tool. Everything will be in one place: you will design your models visually in ORM Designer, and ORM Designer will then generate the code.
Try our application out, you will like it. And let us know your comments or ideas, we are interested in your opinions.
Application is offered for a starting price of €99. This includes a year of support and updates for free. After this period,  you can extend your maintenance for another year. Each extension will cost 30% of the original price.